OUR APPROACH
An online course, for example, would be a Premium One-Off Transaction, and the community built alongside it would be an Affordable Recurring Transaction. This is what FTEN X Evolve is centered around.
An example of a complete Product Eco-System is below.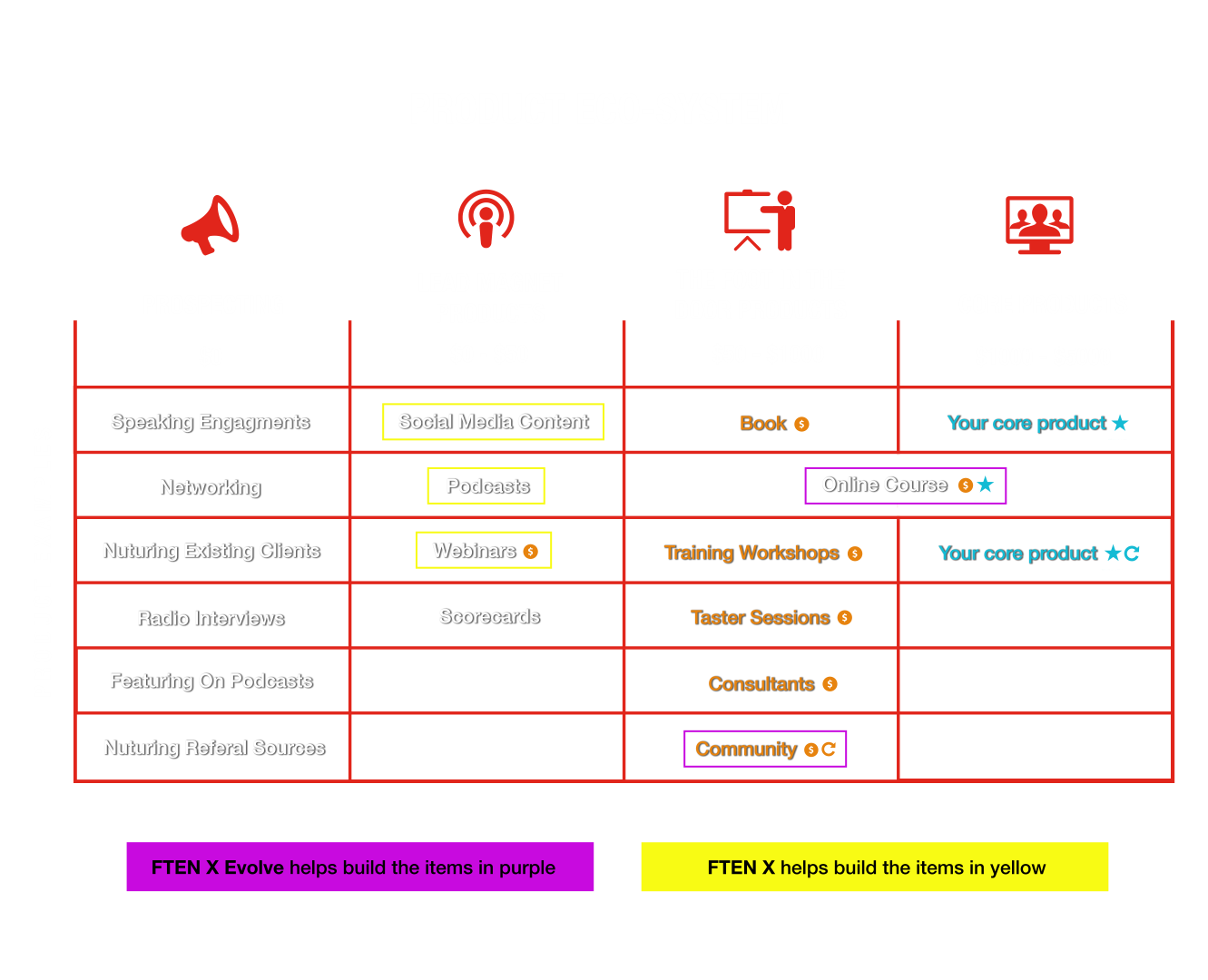 DO YOU HAVE ALL OF THE
FOUR TRANSACTION TYPES?
If you were affected by the 2020 lockdown, then it's probably because you lacked digital assets at different price points that provide alternative revenue, you were not able to serve a global audience, and your time was physically needed in order to earn.
One of the first things we do is look at your product eco-system and see if you have all of the four transaction types.
WHAT'S INCLUDED?
STRATEGIC PLANNING
Our course creating experts are by your side every step of the way, starting with a free consultation call and a thorough, structured course plann which includes each lesson's content and quizzes. We also create a personalised lead page for your course, which you can send to your customers to start obtaining leads and taking payments.
COURSE STRUCTURING ADVICE
Having facilitated the success of hundreds of online courses to date, our experts have extensive knowledge and experience in what works well. Your own personal course creating team are available to advise and answer any questions you may have at any time.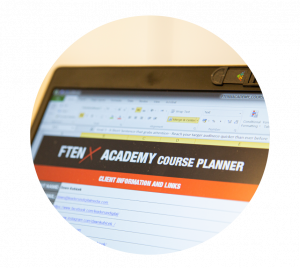 PRO FILMING
The FTEN crew have filmed countless productions for a variety of clients around the world, including Will Smith, VICE, Netflix, Amazon Prime, Pope Francis, Emirates, Facebook and Dubai Tourism. Now, they're dedicated to making your course look visually attractive and exciting. We record over 240 minutes of 4K multi-camera content as well as a 60 second video pitch for your course.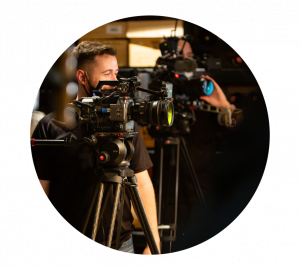 PRO EDITING
Once your course has been filmed, our editors work tirelessly to create 12 weeks of finely edited video classes, including different angles, cutaway content and on-screen text to keep your viewer interested.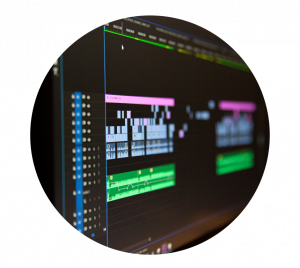 KAJABI UPLOADING
In this final step, our experts upload and test your course on the Kajabi platform. Once this is perfected, we launch your course publicly and advise on how to ensure you can achieve your maximum potential reach.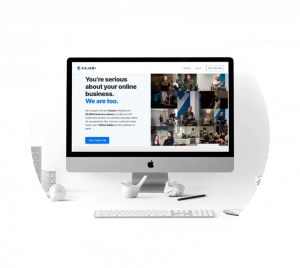 WE DO IT FOR YOU
The Breakdown:



FTEN X Activation course

($2,850)

Course planning support

($797)

A full day of filming with our film crew equipment

($3,500)

60 second pitch filmed and edited

($3,000)

Several days of editing and animating

($3,000)

One-week fast-track turn around

($1,500)

Lead page creation

($500)

Platform testing

($600)

One month of private mentoring 

($259)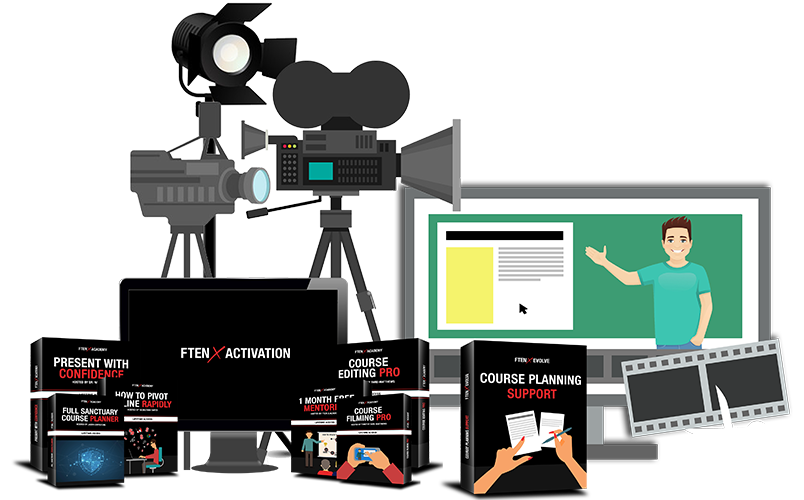 FEEDBACK FROM OUR CLIENTS












WHY FTEN

X

?
We're more than just a photo
and video production service…
We are digital asset makers.
We work with your team to create a customised content plan based around your product eco-system to meet your ROI goals and deliver as many content pieces from one shoot per month as possible!
To see the FTEN quality, see our showreel below:

GOT MORE QUESTIONS?


Q: What will happen on the free consultation call?
A: During the consultation call, we will discuss your business, goals and audience, and how we can create your online course to best service your needs. We will answer any questions you may have about FTEN X Academy and your tailored online course plan.
Q: What content do I get?
A: We go over your scorecard and give you detailed advice on how to improve your brand's online presence inside 12 months.
Q: What crew is involved in creating my course?
A: We have hand-selected the finest and most experienced crew to build your course and platform. This includes skilled camera operators, video editors and course creation specialists.
Q: What is my role?
A: We will handle every aspect of creating your online course, including creating your course plan and lessons, filming and editing the content, launching your video pitch and lead page, creating and testing your platform, and launching your course. Your role is to connect with your network and sell your course to as many members as possible before the launch day.
SCHEDULE A FREE CONTENT CONSULTATION
Simply enquire, and you'll be sent a quick scorecard to fill out. One of our producers will then schedule a call for your FREE content consultation valued at AED 495.




The content consultation will include an audit of your current content, key insights and strategic advice that you can implement right away to your content plan, with no obligation to sign up.